Data Entry Operator Course in Gurdaspur.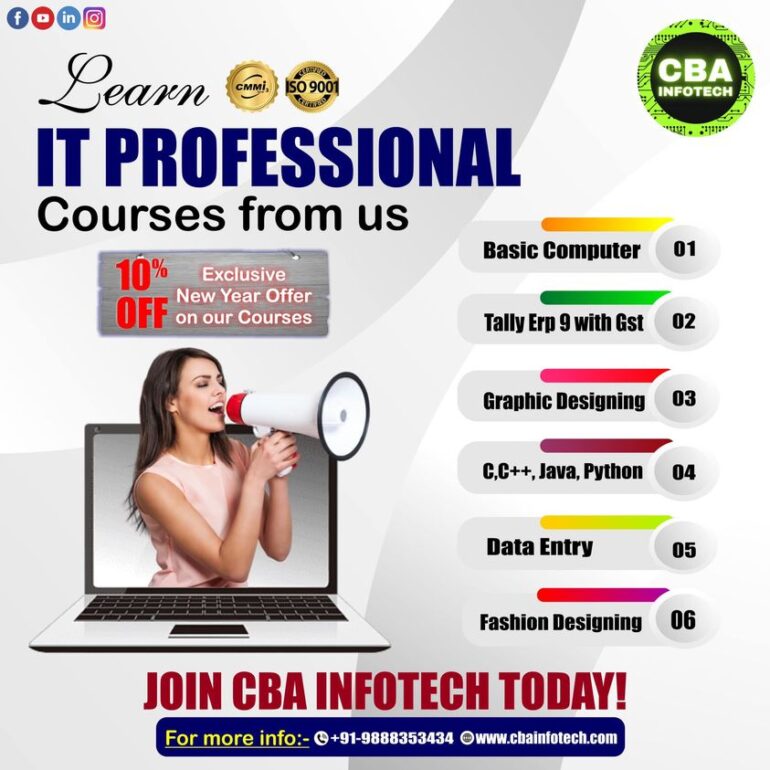 Web Development Course

CBA Infotech, Gurdaspur

Web Development Course in Gurdaspur

100%

100%
Data Entry course in Gurdaspur
Students who enrol in data entry operator courses can learn necessary skills like gathering, sorting, and validating data. At CBA Infotech Gurdaspur, students can enrol in data entry operator training. To be qualified for various data entry operator courses, a student must have earned at least 50% of the possible points in class 10. Administration skills, the capacity to collaborate well with others, patience, and the capacity to maintain composure under pressure are some of the more specialised requirements needed to become a data entry operator. Data 
Students with a 50% ITI score can find employment in several reputable data operations companies. Both public and private organisations may employ data operators. Quick and effective data logging, troubleshooting processing issues, building and maintaining data storage, retrieving data, and coding information are the key duties of a finest data entry operator course in Gurdaspur. See: Data Entry Operator Training.
Why Study Data Entry Operator Courses
There will be a need for data entry operators to log and manage data because the Indian economy is growing quickly in several sectors. In this nation, data entry is widely used.
Data entry specialists can find employment in a variety of industries, including IT, healthcare, accounting and finance, as well as government, administration, and retail.
Due to the abundance of freelance options, it is quite flexible.
The students might anticipate receiving a fair salary, depending on their experience and obligations.
After graduating from high school or college, students might find part-time employment as data entry clerks.
Benefits of Data Entry Operator Courses
While taking the course, students study new software and technologies.
Students' abilities to conduct and analyse research increase.
Adaptable working hours.
Low stress levels.
Admission with payment only.