Best Fashion Designing Course in Gurdaspur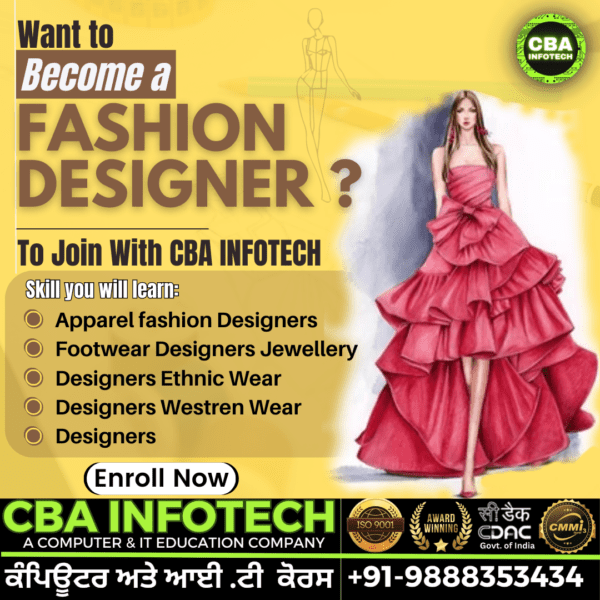 3 Months Industrial Training

CBA Infotech, Gurdaspur

Fashion Designing

Jan 01, 2023

100%

100%
Fashion Designing Course in Gurdaspur
The fashion designing courses provided by CBA Infotech in Gurdaspur have a unique curriculum that equips students with the skills necessary to excel in the contemporary fashion designing field.
Fashion design is a creative discipline that produces clothing and other items for daily life.You need an artistic and creative personality to operate as a designer. You must also be skilled at drawing and able to communicate your ideas in a variety of software programmes. You don't have to be a brilliant artist to combine colours, tones, and tints, but you do need to have certain specialised talents in this area. Also, you must be able to work with fabric and use fabrics in inventive ways. Infotech CBA Fashion designers can see their ideas well, conceive in three dimensions, and translate them into drawings.
At CBA Infotech, we assist ambitious designers in fusing their creative abilities with the demands of the fashion business to get the best results for both high-end and reasonably priced clothing. Enroll now and kick start your fashion designing Course with our best course in gurdaspur which mainly enhance your capabilities.
CBA Infotech provides the best method for learning and putting fashion design principles into practise. With fashion designing courses, you will learn everything from scratch, including textile suitability, garment construction, pattern making, and tailoring. You will also gain insight into technological innovations and practical experience working with well-known names in the fashion industry. Register for Admission at Gurdaspur's Top Fashion Design School.
After taking fashion design courses in Gurdaspur, consider your career options
Career Paths after Fashion Designing Course in Gurdaspur
Designer/Assistant Designer
Pattern Designer
Fashion Illustrator
Fashion Entrepreneur
Costume Designer
Fashion Consultant
Personal Stylist
Technical Designer
Production Pattern Maker
Fashion Coordinator